Can you name the most recognizable figure in the history of influence marketing? This is Santa Claus. He began to appear on Coca-Cola advertising posters from the year 1920:
Marketing influence has been around for a long time. Since then, of course, much has changed thanks to the proliferation of the Internet. But the basics are still the same: you need to find a famous figure to show your customers that you can be trusted.
However, as it turned out, not all famous personalities have the same effect. For example, a well-known blogger is 10 times more likely to influence a buying decision than a pop star.
In fact, according to a study by Collective Bias, a large coverage does not mean the success of an advertising campaign. This is great news for those whose advertising budget is not enough to hire a celebrity as an agent of influence.
In this post, we will tell you about everything you need to know if you are just starting to use influence marketing: what it is, what the benefits are, who the influence agents are and what they do, how to start influencing your target audience.
What is the essence of marketing influence?
Impact Marketing is aimed at promoting your product or service to specific people, not the market as a whole. This is different from traditional marketing when you just advertise and hope that this is enough for people to start contacting your company. Marketing influence involves the use of the relationship between the agent and the person he is trying to influence. In other words, this is a phenomenon of social proof.
If done correctly, influence marketing becomes a powerful tool that helps brands better understand their customers by observing and analyzing their interactions with influence agents. In addition, there are other benefits:
1. People trust people
Simply put, people tend to trust the recommendations of others. Things like reviews, mentions in social networks, user-generated content is forms of social proof. They signal to the average consumer that others are already using this or that product and are satisfied with everything.
Influential people usually trust even more. They have already spent their time and effort to develop their brand and win an audience. They value relationships with clients more than profits. In addition, the audience knows them well.
2. You can get insights about the target audience
Agents of influence know how to captivate your potential customers. They understand what content they like and what they don't. Observing and analyzing the interaction of agents and your target audience, you can get valuable information that will help you create a portrait of the client, write better content and create effective advertising campaigns.
3. You can get more leads
Thanks to agents of influence, you can get more leads. This is achieved through the effect of  " word of mouth". The audience of social networks is huge. And every time an influence agent posts a post about your product, and another person shares it on your page, new people will learn about your company.
What do agents of influence do?
It all depends on what marketing goals you pursue. Below you will find a list of things that influence agents can do for your brand.
1. Links to your product or service
Influence agents can include links to your landing page, profile or website in their posts :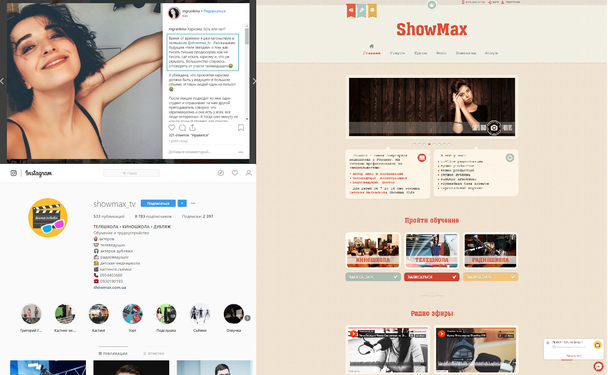 2. Text about you
An influence agent can write a review on your product or make a comparison with competitors.
3. Post on your website or group on social networks
Agent of influence can write a post for your blog or group on social networks. In addition, you can ask him to speak at any event, for example, the presentation of a new company product.
4. Promotion of your brand at events
An agent of influence can promote your brand at events. This can be done in a variety of ways. For example, an agent may give a speech or just appear at an event or make a video or take a photo in your company's branded clothing.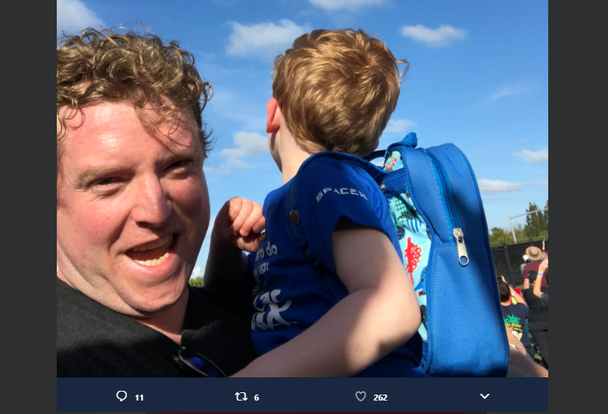 5. Repost in social networks
Most influence agents share information about the promoted company in social networks. Depending on the platform, they may include textual information, images, videos, or a link to your website. However, be careful, because paid posts in social networks look a bit different than usual. 
How to implement an influence marketing strategy: a walkthrough
Now that you understand what marketing influence is, you need to figure out how to find the right agents for your brand.
Step 1: Decide on goals
Before you begin to make a marketing plan, you need to think about what you want to achieve. Below is a list of typical goals. You can borrow something from here or come up with your own points:
generation of unique content;

generation of unique reviews;

creating content that pays off;

attracting a younger audience;

engaging in communication with the brand;

attracting traffic to the site or landing

;

attracting qualified leads;

increase online or offline sales.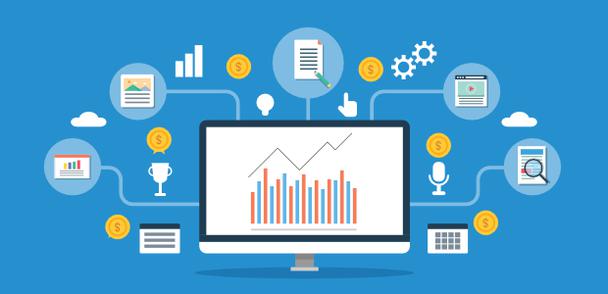 Once you have decided on your goals, identify 2-3 performance indicators (KPI) for it. For example, if your goal is to generate unique content, then KPIs can be a bounce rate or time spent by a user on a page.
Step 2: Determine the ideal agent of influence
The correct agent of influence:
regularly publishes quality content;

interacts with its subscribers;

has a large audience of subscribers involved;

writes in the style that matches your brand style.
Remember that a large number of subscribers does not always mean greater involvement. Influential agents with between 10 and 100 thousand followers can do more for your brand than those with millions of subscribers.
Step 3: Find the right influence agent
Everyone can be an agent of influence. Even a cat. Below you can see a cat account named Nala. She advertises CBD oil: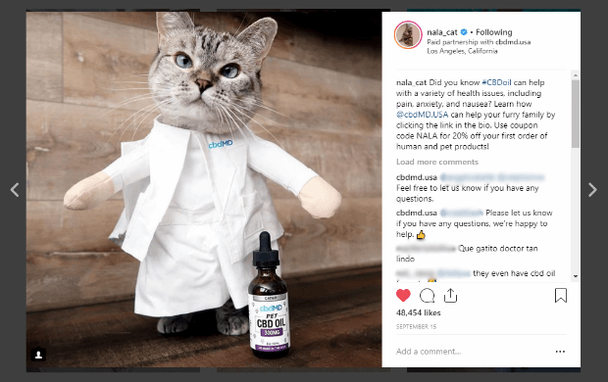 Influential agents have a large online audience. Subscribers are waiting for feedback, reviews, tips, and articles on fashion trends from them. Agents usually specialize in certain topics, such as fitness, entertainment, or news. In addition, they work on different social networks and blogs. For example, a single influence agent can have a huge Instagram audience and very few Twitter followers.
One of the known influence agents offers an easy way to determine if you are on the right path:
Rate the audience of the agent. If your clients are young mothers, and among the subscribers of the agent are 15-year-olds, this is not your option.

Estimate the actual engagement as a percentage of the total number of subscribers. Also, note whether the interaction of the agent with the audience is superficial or not.

Always evaluate performance and monitor your goals. Make changes depending on the result.
Finding the right agent is a time-consuming process. You need to pick keywords, view profiles and read blogs. All this requires a lot of time and effort. Fortunately, the network has tools that can simplify the task:
1. Epicstars
This is a platform that brings together advertisers and bloggers. You will be able to broadcast your marketing activities through opinion leaders. 
2. Livedune
With this tool you can:
analyze account statistics

view thematic rating

search bloggers to promote products or brands. 
Step 4: Discuss remuneration
Most likely, you have already planned for this budget. However, you need to leave a small space for conviction. Remember that you somehow attracted the account of the selected agent of influence. It may be worthwhile to think about increasing the amount of remuneration.
Step 5: Track and evaluate results
If you set up clear KPIs at the very beginning, then this step will be the easiest for you. Analyze the entire campaign and make the necessary adjustments.