Instagram is not only the second most popular social network in the world but also a way to make money for numerous photobloggers, models, and other famous personalities. Outstanding accounts with many thousands of subscribers are interested not only in those who like to look at something beautiful but also in intruders – if you steal such an account, you can do a lot of bad things with it. But how exactly do they steal accounts on Instagram and what to do in order not to fall for the scammers?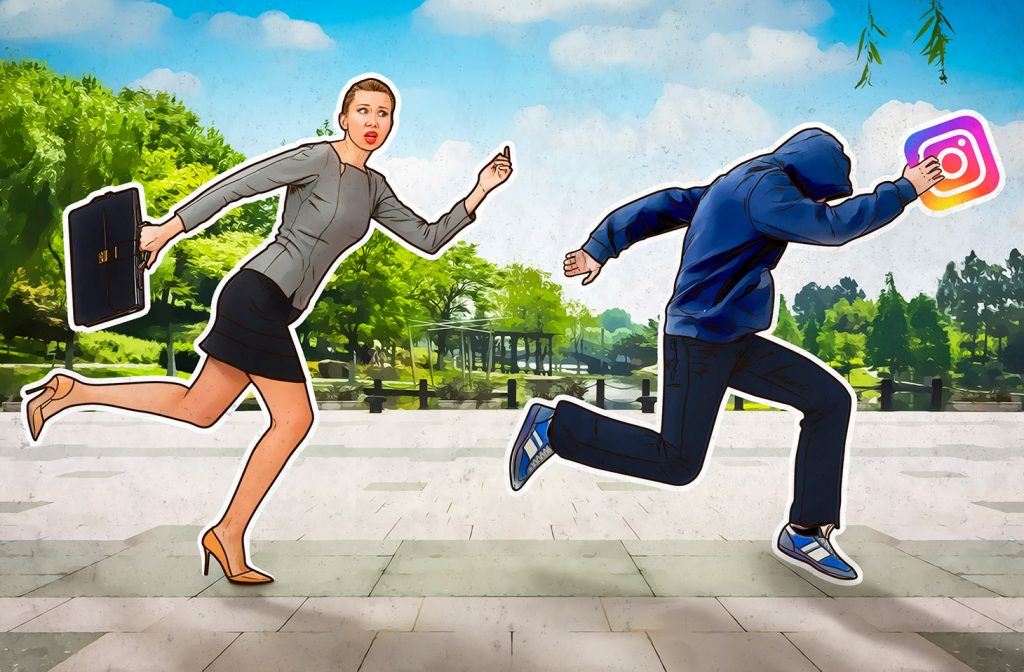 Theft Method No. 1: False Verification
Surely you noticed a blue checkmark in front of some accounts – this is the verification badge (Verified Badge). This distinction has accounts of famous personalities, large companies, and popular bloggers. Accounts with a large audience are especially interested in the appearance of such a mark – because this adds prestige, and also helps to fight fakes. But acquiring the coveted badge until recently was not easy: you could not leave a request for verification or buy a checkmark – the administration of the social network itself decided who to assign it to.
However, Instagram recently changed the policy for distributing verification icons – now you can request verification directly from the application (for this, go to Settings and select Verification Request ) and get the coveted icon. Unless, of course, your account meets the necessary criteria.
This option was added just the other day – August 28, 2018, so many users do not know what and how they should do in order to get the blue daw. This is what scammers use: they create sites that masquerade as pages of the help center of a social network where they request a username, password, email address, first and last name, as well as a date of birth, promising to verify your account.
A trusting user enters the specified information, after which they inform him that it will take 24 hours to make a decision, and recommend that you do not change the settings in the specified period of time. The data goes to scammers, but the user has to wait and hope, not knowing that his account has already been compromised.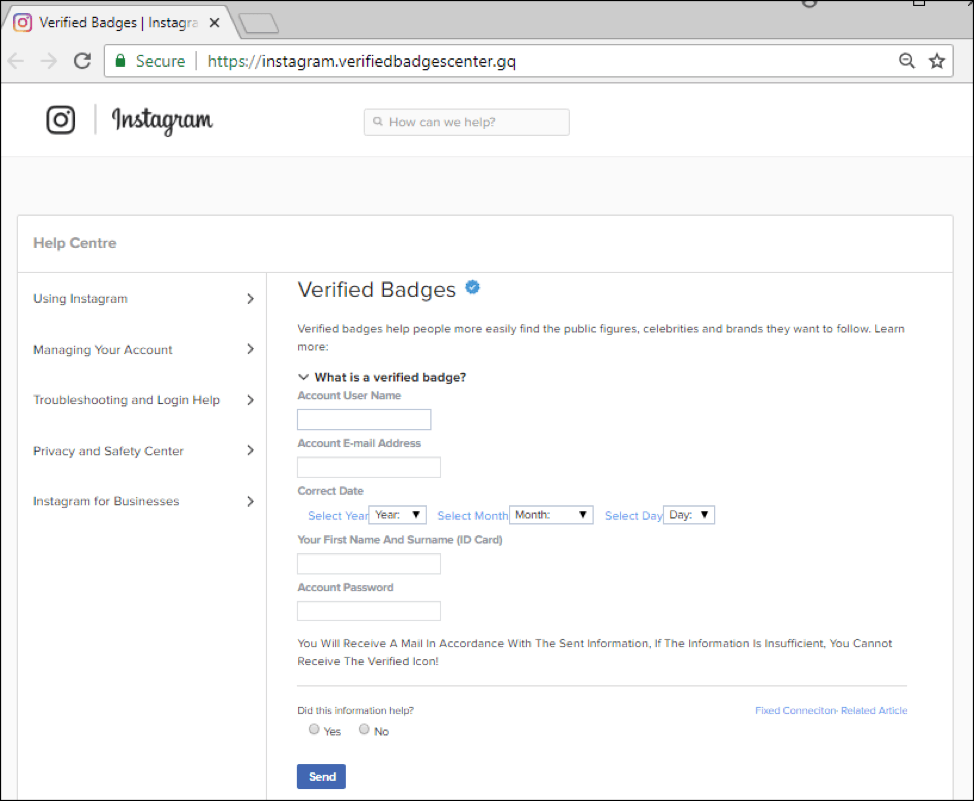 This scheme also allows you to obtain personal information from the victim, which can help fraudsters circumvent two-factor authentication. To do this, they display a message that the support service may contact the account owner in the near future to clarify the details. But in reality, the same scammers will most likely come into contact with themselves as a support service – they will be asked to give numbers from SMS or other personal information. They can also send a letter on behalf of support requesting information supposedly necessary for verification, which they can use when communicating with this support service on your behalf (for example, request your photo or other data that a real support service may require from them).
Theft method number 2: banal phishing
Fraudsters also continue to use classic phishing – to lure a victim to a fake login page or change the password of a social network. For example, they can send a frightening message about hacking an account or the need to update their credentials or simply offer to "rate the photo", to view which you supposedly need to log in to a social network.
Instagram has long been a tidbit for various scammers because the number of users of this social network around the world has already exceeded one billion. Having stolen an account, fraudsters gain access to the user's personal information and his correspondence on the social network. An account can also be used to distribute spam, phishing and malicious content. Quite often, scammers, having taken possession of an account, change their nickname, profile photo, as well as the e-mail address and phone number to which the account is linked. As a result, it becomes practically impossible for true owners to regain access to their Instagram account.
How to protect yourself from hijacking accounts in "Instagram"
Since it is problematic to restore, then the main thing is not to lose. Following simple tips, you can avoid losing your account:
Do not click on suspicious links.

Always check the address bar of the page. If instead of Instagram.com it says something like 1stogram.com or instagram.security-settings.com – in no case do not enter any personal data on these pages.

Use only the official social network application installed from the official application store.

Do not use the login information for authentication in third-party services and applications.

Use reliable protection that eliminates dubious emails and prevents you from opening phishing pages.