Of all the social networks, Instagram is the one that knows the most fulgurating growth. It is also the one on which the demographic distribution is the most homogeneous with regard to the age of the users. In addition, more than 200 million people visit an Instagram professional profile every day. Your Instagram profile gives the first impression of your brand and is the backbone of your presence on the network. At the heart of your profile is your Instagram biography. The latter offers you 150 characters in a prime location for you to introduce yourself and show your new visitors why they must subscribe and interact with your brand.
What an Instagram biography is supposed to bring to your brand
Your Instagram biography shows your visitors who you are, what you are offering and why it is important for them to care. It's worth spending a little time perfecting it.
This may be the first point of contact with your brand for someone who will discover it by clicking on an Instagram hashtag. Does your biography clearly explain why you have to follow? Does it present your brand in its best light?
A successful Instagram biography showcases your brand's personality and makes users act, whether by clicking on your link, visit your physical store, or simply following your account.
What is included in the biography of your Instagram profile
Before you start thinking about what you are going to write, you need to understand the different elements that make up your profile.
Name
When you introduce yourself, starting with your name seems logical. Include the real name of your brand, of course, but do not necessarily stop at that.
The name and username fields are the only parts of your profile that stand out in Instagram searches. This means that you can also add a variant or abbreviation of your name if you think it's a term that people are likely to use to search for you. This is what Saturday Night Live has chosen to do.

In addition, you can include a keyword that can potentially help users discover your account.
You can include up to 30 characters.
username
This is your identity on Instagram. It's your @ username, and it's part of your profile URL (instagram.com/@username). Use a similar nickname across all of your social networks so that users find you easily.
Website
On Instagram, this is the only place where you have the ability to publish a clickable link.
You can edit the URL as often as you like. It may be a good idea to insert a link to your most recent or most important content (for example, your last blog post or video), a special campaign, or a landing page designed specifically for visitors to your site. Instagram.
Category
If you have a professional profile on Instagram, you can choose which category your business belongs to. This mention appears under your name and can give a quick overview of what you are doing.
Assigning a category to your business can free up space in your Instagram biography since you will not have to repeat this information. However, it only appears in the mobile version; Also, not everyone will see it.
Contact information
Business profiles can include contact buttons that allow users to phone you, send you an email, or get directions to your business directly from Instagram.
When you add your address to your professional Instagram profile, it appears under your biography but does not reduce the number of characters allowed in your biography. This is another great way to free up space for more powerful information.
Note: Contact information and buttons appear only on mobile.
Call to action buttons
You can encourage your visitors to perform various actions directly from your Instagram biography with call-to-action buttons. For example, they can allow your subscribers to book a table in your restaurant or purchase tickets for your event.
Verified Badge
This small blue brand is incredibly valuable because it guarantees visitors that they have found your official Instagram account. Do you want yours? Consult this guide to have your Instagram account certified.
Biography
Finally, there is the biography itself. It offers just 150 characters to explain who you are and what you do. It is essential that it conveys the unique personality of your brand and that it shows your audience that it is not mistaken.
With so little text available, it's a lot to ask. You will have to use particularly creative solutions to make your biography stand out from the others.
So let's find out how to write a perfect biography on Instagram.
Bonus: Our 8-step guide to developing your presence on social networks will help you develop an effective social media strategy!
How to write a perfect Instagram biography
Transmit your personality
Your Instagram biography allows you to introduce yourself to your new subscribers. A boring biography will not make them want to click the Follow button, even if you have great pictures in your newsfeed.
The photos show users what you are doing. Your biography, on the other hand, is your only chance to tell them who you are. After all, it's social media! It is important to stay human.
Here, do not hesitate to send brief but important information about your account. What is the promise of your brand?
If you are an individual entrepreneur, what are your skills?
Are you a local business?
Is your product ethically designed?
Action Against Hunger excels in highlighting the importance of his work through a human tone that is authoritative and as serious as it should be.
The biography of Wanimo is more relaxed, which is perfectly appropriate given that the brand offers boxes for dogs and cats.
Can you imagine how strange the situation would be if these two brands had exchanged the style of their biography? In this case, each fits perfectly with the brand it represents. That's why you need to determine the unique tone and personality of your brand.
If you have the opportunity, use the services of a copywriter. Be sure to follow the principles of successful writing on social media. In addition, most strategies for writing an unparalleled legend for Instagram can also be used in this setting.
Include hashtags
Add hashtags to your Instagram biography is a great way to redirect users to the identified content. For example, you might include a hashtag that mentions your brand to promote and collect user-generated content.
Transavia France uses the hashtag #MyTransaviaTrip to gather splendid images generated by users.
You also have the option to include a themed hashtag, highlighting an advertisement or contest that is taking place right now.
Keep in mind that the hashtags in the Instagram biography are clickable but do not appear in the hashtags search results. Do not include hashtags that are not directly related to your business, as each of them is an opportunity for potential subscribers to see what is going on elsewhere.
Play with emojis
Emojis transmit a lot of information in a single character. It's a great way to add value to your brand's personality and provide important details in a small space.
Emojis also provide a visual break to your Instagram biography. If most emojis seem too cute for your brand, keep it simple, even if it's just a basic check mark.
Netflix's DontWatchHungry cooking program account uses a series of emojis to ensure that visitors know in the blink of an eye that they are on a profile that talks about food.

Here are some emoji ideas to use to help you get started:
Ghost Emoji:

 to use in front of your Snapchat nickname

Location pin:

 to be placed in front of the name of your physical establishment or your address

Envelope: to insert in front of your e-mail address

Finger pointing down:

 to add in the last line of your biography to point to your clickable URL

Flags: can be a great way to tell where you are coming from, or highlight your local brand accounts in different languages ​​or countries.
Use spaces and line breaks
Online, Internet users tend not to read the content at their disposal. Instead, they scan the screen to glean some snippets of information. Help them spot them quickly using line breaks.
Bergamotte uses emojis as bullets to highlight key points about his business, which would not really make sense if they were written in paragraph form.
On the Instagram web interface, it's a truly intuitive manipulation. Just space your biography as you want it to appear.
On mobile, it's safer to use a Notes application to create your biography with the spacing you want. Then you just have to copy it, then paste it in the field of your biography.
Write a compelling call to action
All marketing support worthy of the name includes a strong and clear call to action, and your Instagram biography is no exception. Give your visitors a clear indication. What is the first thing you want them to do after consulting your profile?
It may be wise to redirect users to a link where they can buy or reserve your products. But maybe your conversion goal is different.
Make sure your call to action is consistent with the goals of your Instagram marketing and is in sync with the clickable links in your biography.
If your goal is to develop an Instagram subscriber community, your call to action may simply be to ask visitors to follow your newsfeed or share their photos with a hashtag that includes your brand.
Bonus: Our 8-step guide to developing your presence on social networks will help you develop an effective social media strategy!
Instagram biographies ideas
You still do not really know what you want to include in your biography or how to make it stand out? Here are some ideas and examples of Instagram biographies to get you started.
Fun Instagram Biographies
Although humor does not work for some brands, it's sometimes a great way to break the ice.
Old Spice, which markets, among other things, soaps and deodorants for men, uses humor, as in its renowned advertising campaigns. "MUSCLE. ODORS. ". Yes, that sums up Old Spice perfectly.

Totinos, the maker of frozen pizzas, takes a different approach using a fun character in his biography. (In all honesty, we had to read "Pete Zaroll" aloud before understanding the joke.)

Use custom fonts
Technically, you can only use one "font" in your Instagram biography. However, there are tools that can help you create the appearance of a custom font by matching your text to existing special characters.
This is what my own Instagram biography looks like in different fonts, created using the Instagram Fonts tool.
The latter is particularly wacky, but you can, for example, choose a few words to incorporate strategically to generate a visual appeal.
It is absolutely not surprising to see this idea of ​​a creative Instagram biography on an account devoted to typography.
It's a good idea to use this trick in moderation, as The Daily Type does, rather than dress your entire biography with fancy fonts.
Once you've found a font that you like, just copy it and paste it into your Instagram biography.
Add special characters
We have already mentioned the use of emojis. However, you can also add a retro side by using special characters to bring ★ a visual ★ break ★ to your biography.
This trick is based on the same principle as the previous one, but instead of using symbols to create the appearance of a custom font, you use it as retro emojis or as unique chips travel bloggers Lovers Of The World.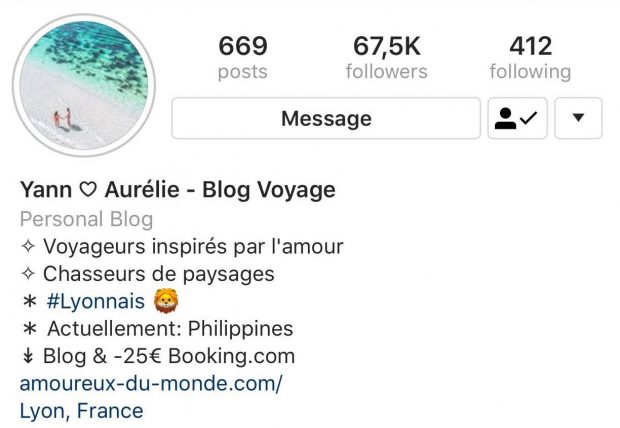 The easiest way to find your special character is to open a new Google Doc, then click Insert and choose Special Characters.
You can browse the available options, search by keyword, or even draw a shape to find a similar character. Then you just have to copy it, then paste it into your Instagram biography.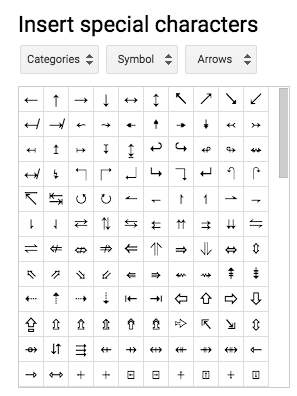 Use quotes
Quotes can be a great way to express an idea or create some kind of connection with people who share your values.
You do not have to use a traditional quote attributed to a real person. You can choose a saying, a poem or song extract, or any other phrase that will have meaning to your potential subscribers. If you use someone else's words, just give them credit to that person.
Where to find good quotes for Instagram biographies? 1001-quotes is a good start.
With these writing leads for your Instagram biography, you now have all the keys to create a biography that highlights the best of your brand and encourages your visitors to love, follow and even buy, in just 150 characters or less