Social networks can hardly be called an ideal source for marketing research. The whole thing is in a non-representative sample, and for a small business, the sample turns out to be too small. However, for large companies, marketing research in social networks is extremely important, since it is there that the most ardent fans of the brand spend their time.
In addition, social networks displayed a frank opinion of customers. Consumers crave to communicate with brands. Here is what the statistics on this account says:
95% of consumers between the ages of 18 and 34 are likely to follow the brand on social networks.

Buyers report that they spend 20-40% more money on brands that interacted with them on social networks.

71% of buyers who have had experience of interacting with a brand in social networks will most likely recommend it to friends and acquaintances.
It should be noted that not all marketing research requires a large number of participants and high activity in the group. For example, when GE Healthcare Life Sciences wanted to find out in what way their potential clients were discussing protein purification issues, experts analyzed about 500,000 comments on this topic. The data obtained allowed to improve the content, as well as to make the text on the site more accessible and understandable to users.
From this post, you will learn everything you need about what marketing research is most effectively carried out in social networks.
What marketing research is best (or worse) to do in social networks?
Social networks can be a useful tool to help you get the following:
Immediate feedback from consumers, information about their personal experiences using your product or service.

Information on how to improve a product or service (according to customers).
The main advantage of social networks is that data can be collected very quickly, as almost half of users log into their profile at least once a day. With the help of social networks, you can quickly get feedback from customers. For example, one study found that social networks were three times more efficient than tracking customer feedback by email.
In addition, using social networks, you can save on research. Most functions (for example, polls) collect data at no cost.  But it is worth remembering that social networks as a marketing research tool are not suitable for everyone. If your groups do not have hundreds of thousands (or millions) of subscribers, do not expect them to become an effective source of data.
However, for small businesses, there is one possibility: social tapping of competing brands. Analyzing their groups, you can understand what your potential customers are unhappy with or what your potential customers want.
Also, beware of the herd mentality. Users of social networks are prone to impulsive behavior and often copy the behavior of others, which can lead to reduced data accuracy (especially if, for example, the results of the survey are visible before someone votes).
So, what are the main methods used for marketing research in social networks?
Methods of marketing research in social networks
There are three types of qualitative research that are suitable for social networks:
High-quality content analysis (number of likes / comments / reposts). Assessing the degree of consumer involvement in social networks may indicate the attractiveness of a marketing message or product.

Observation Passively collects feedback from your customers or follow your brand or competitor opinion.

Polls / questions. Ask questions directly on social networks, encouraging users to share their thoughts and feelings.
Obviously, it makes sense to conduct marketing research only in those social networks in which your customers spend the most time and are most active. Below you will find tactics and strategies for various platforms.
How to use Facebook for marketing research
These social networks offer four basic ways to conduct qualitative research:
Polls;

Contests;

Calls for action;

Tracking brand references.
1. Surveys
As a rule, polls get more likes than any other type of post. It does not take much time or effort to create a survey, get valuable feedback and analyze data. Not every survey should be in a serious way. For example, Starbucks asked subscribers how their order usually looks. For 22 minutes, he generated 2267 likes and 1660 comments. (37 million subscribers in the group)
Thanks to this survey, the company managed to attract attention. In addition, it allowed seeing how customers perceive themselves and what language they use. All this can then be successfully applied in advertising campaigns.
Groups with a small number of subscribers can also effectively use polls. For example, in the SaaS Growth Hacks group only 12,200 participants, but when they asked what software people prefer for video conferences, they were able to get more than 100 responses per day.
2. Contests
The opportunity to win a prize can easily encourage subscribers to provide their email addresses, share self-generated content with you (for example, photos, videos, reviews) or leave feedback about your product.
For example, GoPro held a contest called "Best Line". The main prize was the amount of 15,000 dollars. Contestants had to create a product video based on their experience. As a result, the company received a huge number of exciting videos that were genuine customer experiences. 
3. Posts calling for action
In honor of the launch of the new M & M's product line, they placed a post in which subscribers asked which of the three new products they would like to try most:
Interestingly, M & M's asked exactly an open question instead of organizing a survey with a choice of three options. As a result, they received thousands of responses from their customers, were able to assess their mood and were inspired to create new content.
4. Tracking brand references
You can get valuable information from those who are not in your group. According to statistics, 96% of those who discuss a brand are not subscribers of their group on social networks. Christine Smaby explains: "When consumers share their stories of brand interaction, they don't just talk about their problems. In fact, they show you how to make your product or service even better. "
You can track your brand on the Internet with the help of special tools such as Mention, Brandwatch, Meltwater, Digimind Social, Brand24, Radarly, etc.
How to use Twitter for marketing research
On Twitter, you can post posts no longer than 280 characters. Despite this, Twitter can also be an effective tool for marketing research. There are two ways to collect information:
Monitoring;

Polls
1. Monitoring
Monitoring is a method of monitoring customer behavior in order to know their thoughts about the company or product. For example, when the owner of a pizzeria chain with a focus on healthy eating BellaBrava wanted to open a new restaurant in Europe, he created a list of keywords reflecting their core values ​​(for example, organic, vegetable, vegetarian) and tracked talked about this on Twitter and other social networks. As a result, the company identified 10 potential places with the strongest market where you can open a new restaurant.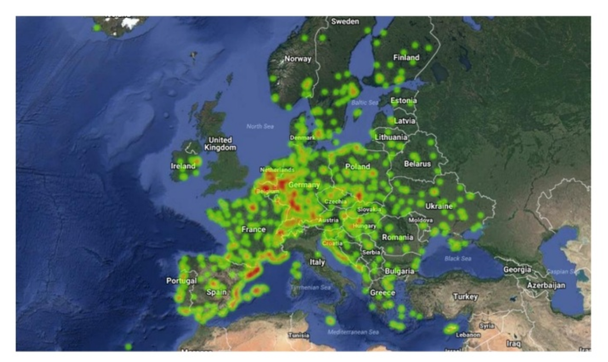 2. Polls
Polls on Twitter are limited in time: from 5 minutes to 7 days from the date of publication. Duration is set by the author of the survey. After your survey is completed, the results can be viewed publicly, and the winning option is highlighted in bold. All participants receive a notification from Twitter (Companies do not control the content of these notifications).
Thus, polls on Twitter have a dual goal: increasing social network engagement and marketing research.
How to use Instagram for marketing research
Instagram has about a billion users, including about 25 million companies. There are three main ways to use this social network for marketing research:
Polls;

Emoji-slider;

Tracking brand references.
1. Surveys
In July 2018, stickers were added to Instagram — short polls that can be placed in Stories. Users can not only vote, but also see the results in real time. Below you can see an example of the use of such surveys on the page of a famous brand. They encourage subscribers to vote for the product they like:
2. Emoji-slider
Instagram introduced an emoji slider in May 2018. It is worth noting that Stories with this new feature receive 15% more interactions than others. ASOS allows subscribers to rate their products using an emoji slider. This allows you to get more complete feedback than from surveys with two options to choose from.
3. Tracking brand references
Like all large companies, Whole Foods constantly monitors the number of satisfied and dissatisfied customers on Instagram. It is not at all surprising that unsatisfied customers write negative reviews under posts in social networks: Just like on Facebook, Twitter and Vkontakte, comments on Instagram are an excellent source for analyzing the opinions of consumers. Reviews can also be collected from those users who are not your subscribers.
If your company is small, you can resort to the influence of marketing influencer, so you get feedback from your customers. According to statistics, its volume in the world is more than two billion dollars. In addition, it is found that 67% of companies plan to increase their marketing spending impact this year.
In 2018, Tommy Hilfiger invited Lewis Hamilton to participate in the launch of the new collection. In collaboration with the brand, Lewis worked on product design and published posts on Instagram with the corresponding hashtag and product tag. Since Lewis has many active subscribers, his posts create a stir and enable the brand to receive customer feedback. A photo from the collection of designers released in Japan scored 148,612 likes, but also touched on the idea of ​​cooperation with Net-a-Porter:
Of course, you are hardly the owner of a global brand and cannot afford to cooperate with a famous Formula 1 racer. However, any, even the smallest company, can organize a micro-campaign for marketing influence. You can start working with local bloggers, whose profiles collect a lot of active subscribers. This will allow you not only to get feedback from customers, but also to attract new customers.
Conclusion
Thus, popular social networks are a valuable source of customer opinions about your company. Although this data is not a representative sample of your total customer base, it is there that you can find honest responses and candid stories of those who use your product or services.
In this article, the six most common methods for collecting high-quality data in social networks were considered:
Polls;

Contests;

Posts calling for action;

Tracking brand references;

Polls in Stories;

Emoji sliders.
High conversions to you!